Nigerian comedian, Taiwo Osinowo, who goes by the derisive name 'Bodataiye Oniyakuya, has been having fun at the expense of celebrities, including Governor Babajide Sanwo-Olu, drawing their caricatures for entertainment.
The comic artist has published many caricatures of politicians, Nollywood actors, musicians including some of the popular housemates in the BBNaija Season 6 edition.
No one has been spared. President Buhari and Asiwaju Bola Tinubu have featured in his presentations.
So have actors Saheed Balogun, Adekola Odunlade and others
Singers such as Davido, Burna Boy have also had their faces distorted for comic effect.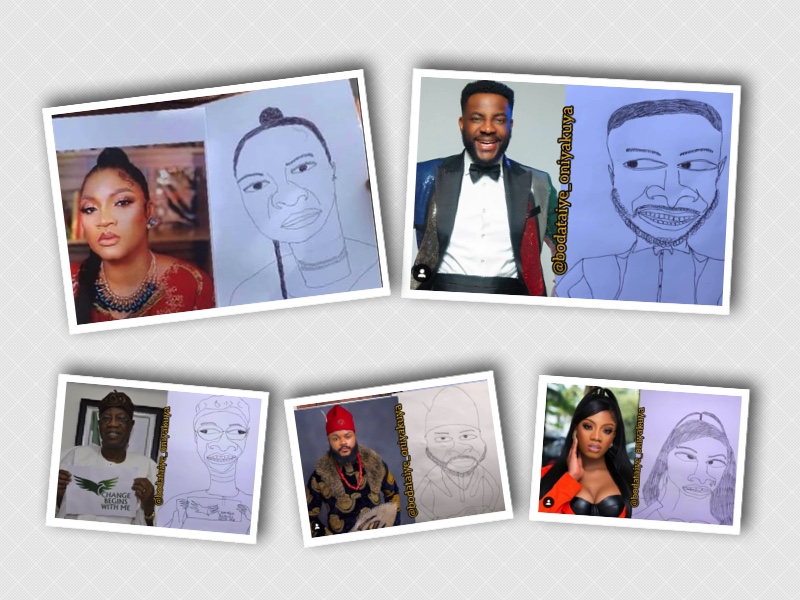 In May, he published one such grotesque image of OmoSexy Jalade Ekeinde, only to earn the rebuke of the beautiful actress.
"Pls you are not well, what's this? Come May 28th, you'll be locked down", she wrote in response.
Instablog which published the reaction of Omotola called the nasty artist, a 'hoodlum". The comedian said the experience remains unforgettable.
Comedian Warri Pikin, also caricatured, put a bounty of N100,000 on the Bodataiye Oniyakuya, asking for his home address.
But the comedian, who calls himself the best artist in UAR, what Nigerian youths now call their country, was only having fun. (UAR means United Africans Republic)
Several days ago, the comedian descended on Governor Babajide Sanwo-Olu of Lagos. The comic work got the governor's attention.
Like all his comic drawings, what Osinowo presented does not reflect the ever boyish face of the governor.
Sanwo-Olu sent him a response: "Really? So it's me you drew like this?
"I'm guessing you will like to present it to me in my office, abi?
"OK. Come and present it to me in my office. Hmmmmm", Sanwo-Olu wrote ending the post with an unsmiling emoji.
Osinowo shared the governor's response on his Instagram page on Saturday, but he is in a quandary whether to take Sanwo-Olu's invitation.
He has thus asked his fans to advise him, especially as the governor ended his reaction, with a sigh 'Hmmmm".
"Hmmmm his excellency ask me to come and present my drawing to him in his office 🤔 hmm hope is not what am thinking guys 😂,i want you guys to advice me on this 🙏,should I go or not , because I dey fear oo😂😂.", bodataiye Oniyakuya wrote.
What do you advise him to do? Take the Governor's bait or run?